Adding a garden room or garden office to your property can seem like an exciting prospect.
But are garden rooms really worth the cost and effort? In this article, we'll examine the pros and cons to help you decide if investing in a garden room is right for you.
A garden room offers a flexible space to enjoy – it could be a home office, games room, gym or just an extra living area.
Situated away from the main house, a garden room provides separation from normal home life.
For many homeowners, this physical and mental distance is extremely valuable.
It allows you to fully focus on work or hobbies without distractions.
So if you're considering adding a garden room, read on to discover whether it's a good investment for your home and lifestyle.
Are Garden Rooms Worth It?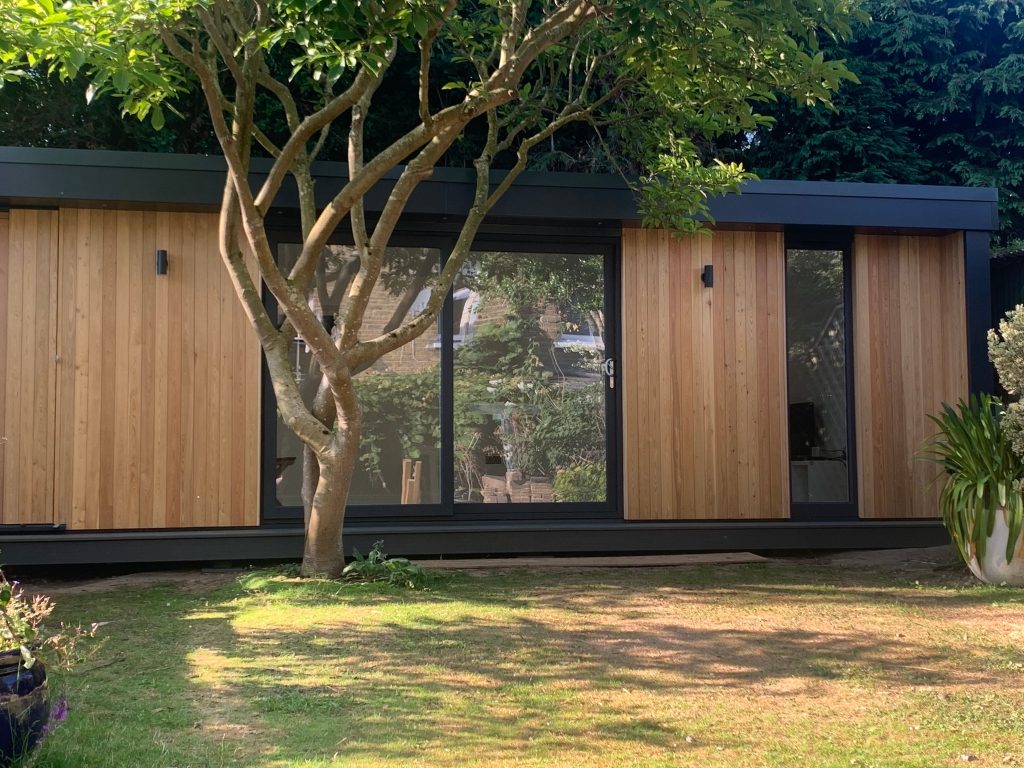 Yes, for most homeowners a professionally-designed and installed garden room is a worthwhile investment.
When built to high standards using quality materials, a garden room can significantly enhance your living space and boost property value for years to come.
Key Facts and Statistics
The average spend on a garden room is around £25,000 (Homebuilding & Renovating Magazine)
61% of homeowners report using their garden building as a home office (Compton Buildings survey)
The pandemic has driven a 264% increase in demand for garden offices since 2019 (Houzz)
83% of buyers say extra living space will entice them to pay more for a property (Zoopla)
Adding a garden room can increase property value by up to 15%, adding over £100k value for high-end properties (Savills)
How Much Value Does a Garden Room Add to a Property?
One of the biggest considerations is "how much value does a garden room add?".
Of course, this depends on several factors. But in general, you can expect a garden room to increase property value by 5-15%.
For a £300,000 home, that could mean adding up to £30,000 in value after installing a high-quality garden room.
However, it's worth noting that cheaper garden buildings may not add as much value.
What is the Cost of Building a Garden Room?
A bespoke garden room built by a specialist company will start from around £15,000.
Expect to pay £1,500 – £2,500 per m2 for a high-spec garden room.
Cheaper options are available – wooden garden rooms can cost as little as £5,000.
But build quality is likely to be lower.
When weighing up cost, think carefully about longevity.
Well-built garden rooms can last over 15 years, while cheaper alternatives may only last 5-10 years before needing replacement.
Do You Need Planning Permission for a Garden Room?
In most cases, planning permission is not required for garden rooms under 30m2.
However, regulations differ across the UK. It's important to check with your local council before proceeding.
Even without planning permission, your garden room will still need to meet building regulations.
Choosing an experienced company like Green Retreats will ensure your garden room is fully compliant.
How Does a Garden Room Add Value to Your Home?
There are a few key ways a garden room can add value:
Extra living space – Having a garden room instantly adds flexible extra space to enjoy. This is attractive to buyers.
Home office – With more people working from home, a garden office is a big selling point. It provides a workspace away from the main house.
Added kerb appeal – A well-designed garden room enhances the look of your property from the street.
Modern extension – For traditional homes, a contemporary garden room can provide a stylish new addition.
Luxury factor – A high-end garden room adds a 'wow' factor that buyers will pay a premium for.
Should You Convert a Bedroom or Build a New Garden Room?
If you have a spare bedroom, converting it into a home office or garden room could save on building costs.
However, for maximum value, it is often better to build a new garden room and keep the existing bedrooms intact.
This provides a net gain of space rather than converting one space into another.
A new garden room built to high standards also tends to add more value than a basic conversion.
How Much Value Does a Garden Office Add?
Demand for home offices has grown exponentially since the pandemic.
For properties without a spare bedroom to convert, adding a garden office can be very appealing to buyers.
In most cases, a garden office adds similar value to a garden room – around 10-15%.
For a £500,000 property, you could potentially add £50,000+ in value with a new garden office.
As garden offices directly enable home working, you may also be able to claim tax relief on installation costs too.
What Features Should You Include in a Garden Room?
Customisable features to consider for your garden room include:
Insulation – Important for soundproofing and comfort.
Electrics – Power, lighting, heating and data connections.
Flooring – Wooden or tile flooring often preferred over carpet.
Windows – Lots of light is ideal for a home office or living space.
Doors – Bi-fold or sliding doors integrate the garden room with your outside space
Consider an eco-friendly build using sustainable materials for maximum efficiency and reduced running costs.
How Long Do Garden Rooms Last?
Typically an installed garden room will last 15-20 years or more if properly maintained. Opting for a high quality build from the outset gives the best longevity.
Consider factors such as:
Timber grades – Higher quality timber will last longer. Hardwood timber can last up to 50 years.
Insulation – Prevents damp and extends lifespan.
Roofing – Choose robust slate-effect steel roofing.
Fixtures – Performance glass and durable doors/windows prevent early replacement needs.
Regular cleaning and upkeep will also improve the lifespan of your garden room.
Are Garden Rooms Worth the Investment? Key Takeaways
Garden rooms can increase property value by around 10-15% or more. A £50,000 garden room could add over £100,000 value to the right property.
Expect to pay around £1,500 – £2,500 per m2 for a professionally installed high-end garden room.
Check if planning permission is required before installing. Most garden rooms under 30m2 are exempt.
Well-designed garden rooms and offices can significantly boost your home's kerb appeal and space.
Opt for quality fixtures and fittings to maximise the longevity of at least 15-20 years.
Overall, a professionally-built garden room that enhances your lifestyle is likely to be a wise long-term investment in most cases. But weigh up the costs versus potential value added for your own property before deciding.
Garden Room FAQs
Do garden rooms require planning permission?
In most cases, planning permission is not needed if the garden room is under 30m2. However, building regulations will still apply.
How long does it take to install a garden room?
On average, expect a professional garden room installation to take 3-4 weeks from start to completion.
What features should I consider for my garden room?
Popular options include insulation, power, heating, lighting, bi-fold doors, roof windows and high-quality fixtures.
How can I make sure my garden room is designed well?
Hire an architect or specialist garden room company to create a tailored design that complements your property.
Should I buy a cheaper wooden garden room?
Wooden buildings are less expensive but may not last as long or add as much value. Quality is important.
What are the running costs for a garden room?
With insulation and energy-efficient lighting, running costs are usually only £30-50 per month depending on use.
Here at Garden Office Buildings, we specialise in the design, supply and installation of bespoke garden rooms and offices across the South East of England.
Get in touch today if you're looking to add space and value to your home…