In our opinion, any type of building that is attached to a house can't be considered a garden office.
A true garden office is an outbuilding that sits in the garden, away from the house.
If you want to add a dedicated office to your home, we strongly recommend that you don't simply attach one to your house (much like a traditional conservatory).
In this article we are going to be discussing reasons why a garden office should NOT be attached to the house.
If you are going through the effort of a home extension to create a home office, there are better ways.
Consider an open-plan scheme instead. You'll certainly get more bang for your buck.
This can free up a different room in the house which you can now use as a dedicated home office, e.g. by relocating the dining room to the new open plan kitchen/living space, you're able to convert the old dining room into a home office.
The popularity of conservatories and "box" style extensions has plummeted over recent years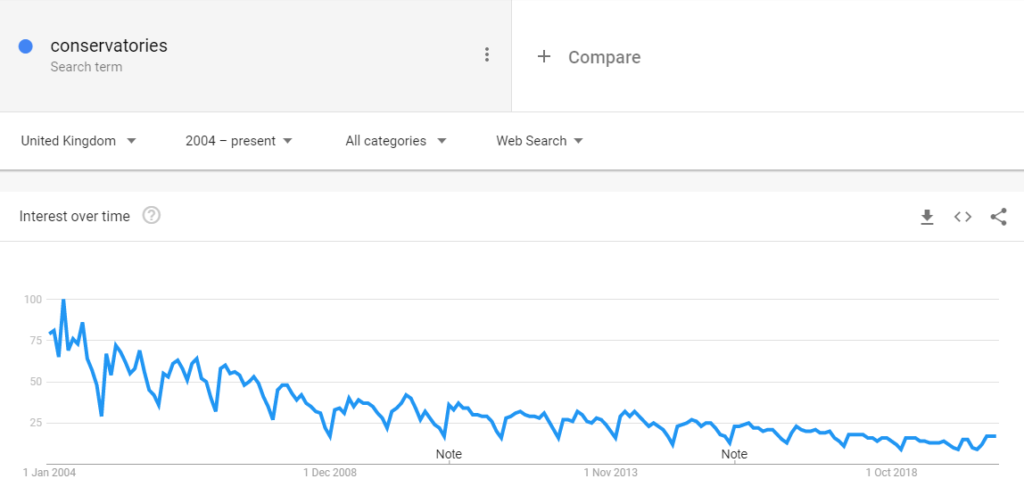 Instead, you should consider a dedicated garden office away from the house.
Or as already mentioned, if you are set on extending from the main house, opt for an open-plan extension instead.
Disclaimer: Please note that this is just our opinion and isn't necessarily the case for every property. We actually really like offices that are attached to the rear/corner of a house. It's more the case that we're much keener on an open-plan scheme if it's possible.
A Garden Office away from the house has more privacy
By having your garden office attached to the house, you'll undoubtedly receive some noise and disturbance from the main house. Whether that's family members coming in to offer you a cup of tea or your pets coming in to say hello, these are all distractions (albeit nice ones) that will tarnish your productivity over the long run.
As an example, if you get distracted for just 10 minutes per day over the course of a 250 day working year, that equates to roughly 40 hours worth of distractions in just one year!
Furthermore, if you did opt for a garden office attached to the house, access to the garden might be via this new room. This doesn't apply to every floor plan, but many properties in the UK have limited access to the garden from the main house and you might find that the only way to access the garden is via the new attached garden office.
This is nice in the sense that you can hop outside for some fresh air during the day, but bad because other members of your household will need to walk through the office to get to the garden.
The same can be said for a home office or study located anywhere else within your house. If privacy is a priority, then a garden office away from the house is your best option every time
You don't need planning permission (or building regs in most cases) for a garden office away from the house
If you've already taken advantage of your permitted development rights, then you might need planning permission to attach a garden office to the main house.
When it comes to an outbuilding/garden office, you're likely not to require either planning permission or building regulations if you meet the following criteria:
Garden office can't sit forward of the principal elevation (front of the house)
Height restriction of 2.5m if within 2m of a boundary, restricting you to a single storey only
Not used as sleeping accommodation
Garden office can't take up more than 50% of the total garden curtilage. This 50% also takes into account any extensions and sheds.
A garden office away from the home is a smart way to create extra space without the usual permissions/regulations that come with a garden office attached to the house.
Garden offices away from the house provide psychological separation between work and home
A garden office away from the main house allows you to separate yourself from the stresses of a busy household, both physically and mentally. It's a space where your only focus is on work and getting the most important tasks of the day done.
There is a multitude of benefits of separating work and home life, including better family life, sleep, and overall mental health. The inability to create a work-life balance can lead to stress and burnout.
Even though the walk to work might only be 30 steps through the garden, it still provides that physical barrier between work and home.
Garden offices away from the house are more aesthetically pleasing
Garden offices attached to the house are not very good-looking in our opinion. They interrupt the 'flow' of the house and look like out-of-place boxes.
On the other hand, separate garden offices are unobtrusive and sit beautifully within the natural environment. The limitless wildlife provides an amazing canvas for your garden office that looks amazing all year round.
If you do opt for an extension, you might as well go all-out for an open-plan scheme
As mentioned in the introduction, if you're going through the effort of adding an extension to the back of your house, you'll get a much better return on your investment by choosing an open-plan living or kitchen scheme.
The most popular types of extensions in the UK are single storey and side-return, which can both work for this type of open-plan scheme.
Conclusion
We'd like to conclude by acknowledging the clear bias towards garden offices away from the house.
In our opinion, a garden office away from the house provides a much more purposeful and functional workspace than a garden office attached to the house.
They are less complicated to build, cheaper, and more importantly, create a natural barrier between work life and home life.
If you are set on an extension attached to your house, we much prefer open-plan schemes, which allow you to free up another room in the house that can be used as an office.
Finally, we would love to hear your opinions on this topic. Comment below or drop us an email, we love chatting to our readers!