Modern garden rooms make for a fantastic addition to your home, offering a brand-new area for you to make your own. Whether you wish to turn your new space into a garden office, kids' playing area, or even a home music studio, the possibilities are endless.
We've drawn upon our own experience and researched some of the top landscaping tips that can take your garden room to the next level. These ideas will help you create a pleasing aesthetic; however, they also serve a practical purpose and can help to integrate your garden room seamlessly into your outside space.
Let's take a look at 5 landscaping tips you can follow to complement your garden room.
Extending your interior space:
To begin, consider what purpose you have chosen for your garden room. Have you transformed it into a lounge area where you invite friends and family to come over for tea? Or is it now a cosy office where you work from home?
Once you have a firm grasp of the function your garden room serves, you can then complement this with exterior furnishings. For example, if you have turned your garden room into a lounge, then you could go one step further by adding outside seating and coffee tables. When the warmer months roll around, you can then make the most of this exterior seating before retiring to your garden room when the temperature cools.
On the other hand, if you are using your garden room as a kid's play area, then why not take this a step further with an outdoor slide or climbing frame? This will help to get the little ones even more excited about playing outside and in their dedicated play room.
Light up your garden: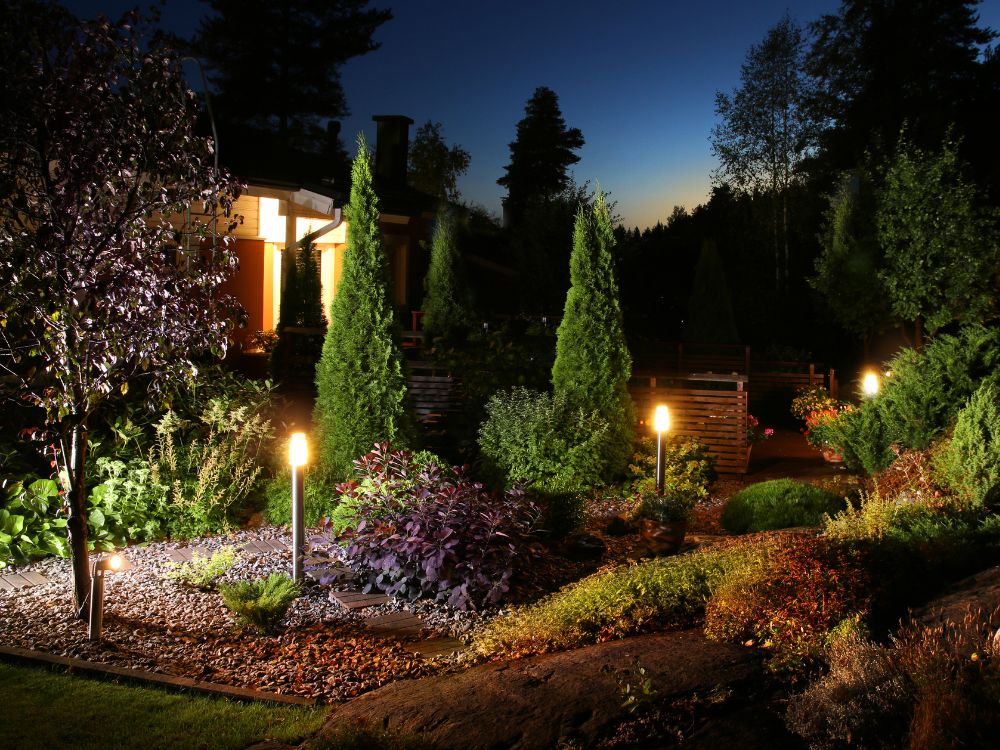 Exterior lighting can play a big part in the ambience and effect your garden building has. It also serves a practical purpose in lighting up the surrounding area if you are travelling to and from the building when it is dark outside. With the days getting shorter in the winter months, the last thing you want to be doing is fumbling for your torch in the cold.
An exterior motion sensor can also act as a remote switch, turning on and off your lighting when necessary. This way you can cut down on your electricity bill while ensuring your garden is adequately lit when you need it.
Common lighting mistakes:
Directing lights towards the line of sight. To avoid glare at night, use cowls or louvres on spotlights, which can help to disperse the light properly.
Buying lights that are too bright or large. With LEDs now commonplace, you'll be surprised just how far a smaller light can go at night.
Using warm lighting outside. To create an ideal contrast between the warm interior of your garden room and your outside space, opt for a cooler colour, 3000k LEDs are recommended.
Create convenient pathways: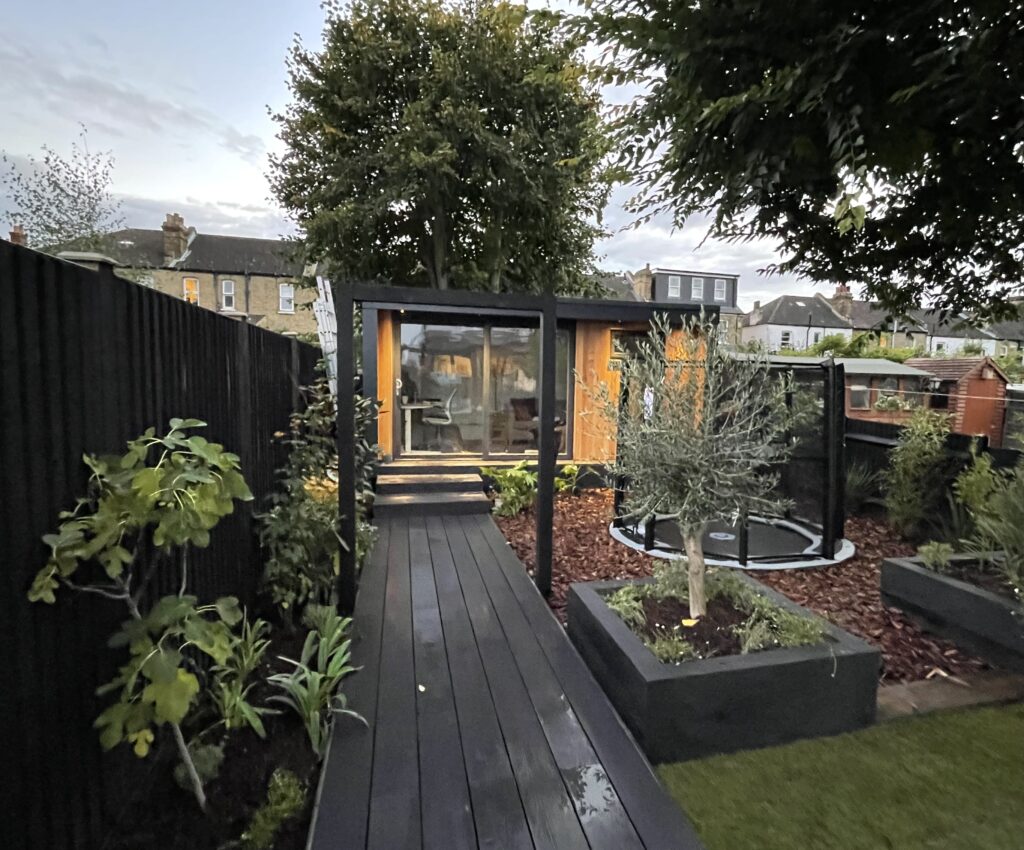 Depending on the size of your garden, creating a pathway from your house to your garden room can be essential. There are many ways that you can achieve this, such as laying down paving slabs or wooden decking.
If you are comfortable with DIY, then these tasks are certainly achievable. On the other hand, you may need to call in a professional to assist you if you are unsure where to begin. In the case of decking, it's important it is properly installed to prevent cracking or sinking.
There's endless creativity to be had when designing paths for your garden. For example, you may decide that you want to create a Zen garden or chill-out area, with a path leading directly from your garden office. This can be a great way to de-stress and take a break.
Harness the power of plants: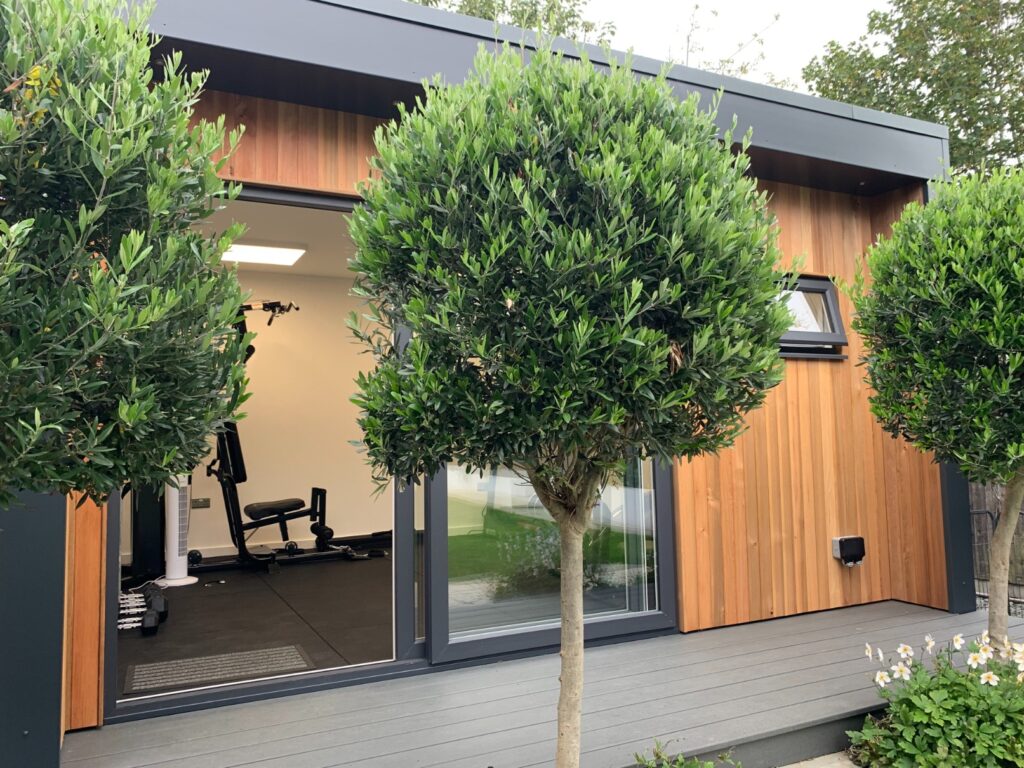 Plants, such as flowers, shrubs, and trees, can help to complement your garden room in many ways. On the one hand, a well-tended flower bed outside your garden room can add a brilliant splash of colour. On the other, it can also help to blend in the structure with the rest of your garden.
What's more, countless studies have shown that spending time around plants and flowers can help improve productivity and creativity, as well as reduce stress and boost mental health. As garden rooms are often places where we go to get some peace and quiet, then this 'green therapy' can be a much-needed bonus.
Keep grass and foliage trimmed
While the idea of mowing the grass might make you groan (we understand!), keeping a well-kept garden can actually help to protect the structural integrity of your garden room.
As the grass and weeds around your garden room grow, they can transfer moisture to the wooden base and walls of the building. In turn, this can promote damp and the growth of mould, causing damage and discolouration over time.
A simple fix is to pave over the area directly around your garden room, or use pebbles, gravel or chippings. You can also use this as an opportunity to get creative, selecting materials that complement the look of your garden room. For more ideas, check out this article on landscaping with pebbles to enhance your garden.
Summing up:
Here at Garden Office Buildings, we see garden rooms as a fantastic opportunity for you to utilise your outside space, allowing you to create an area that serves your individual needs. By taking on board the landscaping tips that we have listed above, you can create a beautiful environment with a practical layout which complements your modern garden room.
To learn more about our standardised and bespoke garden rooms, speak to a member of our friendly service team today on 01689 818 400 or get in touch via email at info@gardenofficebuildings.co.uk. Alternatively, you are welcome to fill in our quick and easy online form here. We can't wait to get started.